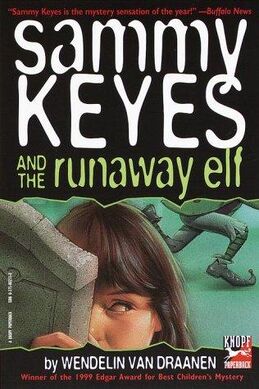 Samantha Josephine "Sammy" Keyes is the protagonist of the series. She lives in the fictional town of Santa Martina, California. Sammy starts out as a seventh grader at the beginning of the books, and will finish eighth grade at the end. The books are told in Sammy's perspective.
Background
Edit
Sammy lives in the California town of Santa Martina, which she doesn't normally step outside of, with the exception of Santa Luisa, Sisquane, Hollywood, and Las Vegas. She is thirteen, and was born in the first week of April. Her mother, Lana Keyes, whom she frequently calls "Lady Lana", left her to "run off to Hollywood and become a movie star", and sent her to live at her Grams' seniors-only apartment where kids aren't allowed to live. It was on Sammy's 11th birthday that Lana took Sammy to McDonald's, where she broke the news that she'd be going to Hollywood and leaving Sammy at Grams.
Sammy attends William Rose Junior High with her friends, Holly , Dot , Billy , Marissa , Cricket , and Casey, along with her enemies, Heather, Tenille , and Monet .
In Sammy Keyes and the Psycho Kitty Queen, on Sammy's "fourteenth birthday" her mom came and broke the news to her that she was actually turning thirteen. As an infant Sammy was "a screamer", and the doctor called it colic. When she was four, her mother entered her in kindergarten, falsely assuming she was ready, and forging her birth certificate to say she was five. When told Sammy would be held back, Lana refused to admit Sammy's real age to even her out of fear she'd accidentally tell a teacher.
Sammy's father was unknown, as Lana had kept his identity secret, but she has "a piece of her dad", his old catcher's mitt, which Sammy wears when playing softball. Sammy discovered in Showdown in Sin City that her father is Darren Cole, a famous rock star.
Appearance
Edit
Based on some book-covers and descriptions within the text, it is assumed that Sammy has shoulder-length-ish, brown hair with bangs and green eyes. She wears a pair of white high-tops; she used to wear a pair of green high-tops that she painted green, then got a new gray pair from Casey. Her style is tomboyish, as she wears jeans and sweatshirts and rides a skateboard. Sometimes, Sammy wears her hair in a pony-tail, and sometimes she does not. And, Sammy's shoe size is a seven.
Personality
Edit
Sammy frequently gets into "trouble", in other words, a mystery. She is depicted as spunky, sarcastic, and very curious. This curiousity is what gets Sammy to snoop around for clues. When there's a crime taking place, she's certainly bold enough to try to tackle down a robber; she won't do this blindly, though, because she was observant enough to see the robber was using a squirt gun. She can be sarcastic around some adults, such as her mother, and doesn't like that adults don't believe you just because you're a kid.
Sammy has a strong dislike for her mother, since she dumped her to become a soap-star, and calls her Lady Lana. It is the few adults, such as Hudson , who like to hear Sammy's side of the story instead of believing the adult's. Sammy is very clever, which is encouraged by Hudson, who told her to "keep your mind wide-open". This usually helps her solve a problem she might be facing.
A noticeable trait of Sammy is that she can be hot-headed at times; punching Heather in the nose after Heather jabbed her in the butt with a sewing pin; this hot-headedness can also come from defending a friend, such as when Heather called Mikey McKenze "Blubber Boy", and she grabbed Heather by the shirt. She's also shown this trait when beating up Monet, Tenille, and Heather.
As Sammy is a tomboy, she has a funny perspective of makeup, saying that mascara is "like bird wings flapping away", lipstick is "like you kissed rasberry jelly", and "Foundation, you can HAVE foundation. Just smear peanut butter on your face."
Sammy likes a boy named Casey, and though she denied this to her friends, stating, "He's psycho Heather's brother!", she likes him, and he likes her too. When Sammy and her friend were lost in the Vista Ridge wilderness and they ran into Casey and Billy, Sammy and Casey grew closer. In Sammy Keyes and the Wedding Crasher, Sammy and Casey kiss, as Sammy describes it, "electric".
Abilities
Edit
Aside from solving mysteries, Sammy has a few miscellaneous abilities of her own.
Barehanded fighter- Sammy has been in a few brawls with people and has thrown a few punches of her own. In Sammy Keyes and the Hotel Thief, Sammy gets suspended on the first day of school because of punching Heather in the face and caused her to have a nosebleed. In Sammy Keyes and the Psycho Kitty Queen, Sammy officially started to learn about professional wrestling. She and Holly would observe the guys at Slammin' Dave's Pro Wrestling School, and they even practiced a few wrestling moves. Sammy was able to get inside the school and after being discovered, had learned a few new moves. This came in handy because Heather and her friends attacked Sammy, and Sammy used some of her wrestling moves on Heather and her friends to get them away, even physically throwing Heather into Monet and Tenille.
Crocheting- Sammy learned to crochet from Grams, and Grams considered teaching Sammy how to knit or embroider. Sammy learned to crochet in between the books when she had free time. In Sammy Keyes and the Wedding Crasher, Sammy told Marissa that she was hemming her dress for the wedding, but Sammy didn't have to wear that dress because she was becoming a bridesmaid and wearing the bridesmaid dress.
Cooking- Sammy is able to cook; she can make her own oatmeal, and one time she even cooked a meal for Grams and herself.
Relationships
Edit
"Gramps"- Grandfather
Rita "Grams" Keyes- Grandmother
Hudson- Step-grandfather
Darren Cole- Father
Lana "Lady Lana" Keyes - Mom
Casey Acosta - Boyfriend
Favorite food is oatmeal.
Shares a favorite song with Casey, "Waitin for the Rain to Fall" by Darren Cole.
Favorite kind of shoes are high-tops.
Was taken to McDonald's for her 11th birthday and that's when her mother broke it to her that she was leaving for Hollywood.
Received a pink angora sweater from Lady Lana on Christmas.
After she moved in with Grams, she was taken to get baptized.
Aries is her zodiac sign
Wendelin van Draanen revealed on her blog that Sammy's birthday is April 6th.
First name is Samantha and middle name is Josephine.
On the Sammy Keyes website there is an interview with Sammy where she discusses the Curse of Moustache Mary; the interview takes place in between Moustache Mary and Hollywood Mummy.
On the website, there is a Sammy Keyes Casebook. Sammy wrote a letter to the Borschman because she read through his file about a recent case, and she thought it was obvious who stuffed the socks everywhere; the date on the letter was 10/18, so this could have taken place before Sammy Keyes and the Skeleton Man in October.
There is an unpublished mystery called Sammy Keyes and the Boyz in the Band that you can unlock from Crack The Code.
Sammy has been described as having a choleric temperament.