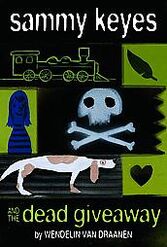 Sammy Keyes and the Dead Giveaway is the tenth book in the series, and it takes place at the end of seventh grade in May
The bad news: Sammy's made a deadly mistake.
The good news: No one knows she did it.
The delicious dilemma: Everyone thinks her archenemy Heather is to blame.
Now Heather's in a major jam, and in some ways it's only fair–Heather's pinned more than a few crimes on Sammy. Besides, there are distractions galore to keep Sammy from confessing. Like the end of the school year. And the Farewell Dance. Especially the dance, because she's going with Heather's brother, Casey. But Sammy knows that the truth has an uncanny way of resurfacing, and when it does, the stench can be more vile than the junior high cafeteria. . . .