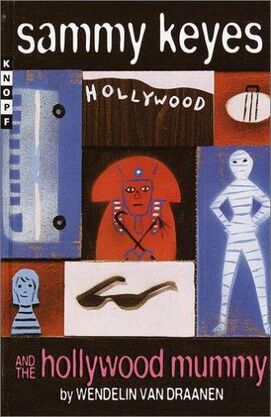 Sammy Keyes and the Hollywood Mummy
is the sixth book in the series. It takes place in January over a three-day weekend
When Grams returns from a visit to her daughter and she tells Sammy that she was treated badly, the girl is determined to set things straight between the grandmother with whom she lives and her mother, an aspiring actress. The protagonist and her friend Marissa take off for Hollywood by bus, where they are surprised to find Sammy's mother living in a ritzy neighborhood, but under an unusual arrangement. She agrees to let the girls spend one night with her, but before the night is over, one of her housemates is murdered. For good reason, Sammy suspects her mother. The writing is clever and fast paced, and the book is filled with cliff-hanger chapter endings and characters with secrets. Between deciphering clues and conversations, Sammy must also deal with some very real feelings of abandonment. Although there are a few references to events from previous books, this story stands alone. Readers will enjoy the escapades of this daring, strong-willed, and bright sleuth, and identify with some of the mother/daughter issues raised.
Ad blocker interference detected!
Wikia is a free-to-use site that makes money from advertising. We have a modified experience for viewers using ad blockers

Wikia is not accessible if you've made further modifications. Remove the custom ad blocker rule(s) and the page will load as expected.