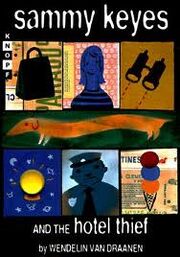 Sammy Keyes and the Hotel Thief is the first book in the series by Wendelin Van Draanen. It is the debut of Sammy Keyes.
Look out Harriet the Spy! Here comes Sammy Keyes, a resourceful, brave, too-curious-for-her-own-good young sleuth who gets into trouble with her grandmother's binoculars. Sammy was just killing time when she looked across the avenue with the binoculars. She certainly didn't imagine that she would see a thief in the act of stealing something from one of the rooms at the Heavenly Hotel. The worst part is that the thief saw Sammy spying! And what did "smart" Sammy do then? She waved at the thief! Now Sammy is in loads of trouble.Later the theif slips a note under the WRONG DOOR!Can she solve the mystery of the hotel thief before the thief finds her and before the police discover that she has been living illegally with her grandmother? (Oh, don't ask--it's just another stressful situation in this young detective's life.) Teens of all ages, shapes, and persuasions (especially reluctant readers) will adore Sammy and her crazy adventures. She is much more than a brilliant detective: Sammy Keyes, who is curious in all the right ways, is the sort of person you'd love to have as a friend.
Ad blocker interference detected!
Wikia is a free-to-use site that makes money from advertising. We have a modified experience for viewers using ad blockers

Wikia is not accessible if you've made further modifications. Remove the custom ad blocker rule(s) and the page will load as expected.