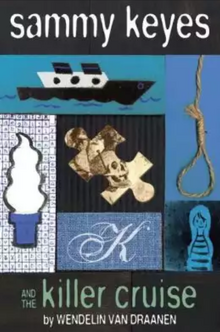 Sammy Keyes and the Killer Cruise is the seventeenth book in the series. It takes place in April of Sammy's 8th grade year.
The seventeenth and penultimate Sammy Keyes adventure finds the intrepid Sammy and her best friend Marissa at sea on a weeklong cruise to Mexico. The ostensible reason for the cruise is to celebrate Sammy's fourteenth birthday, but the real reason is for Sammy to get to know her long-lost father—rock star Darren Cole. Before the bonding can truly begin, however, Sammy, being Sammy, finds herself involved in a murder mystery involving a fabulously wealthy family. "Trapped on the high seas," she ruefully thinks, "with psycho-rich killers who are not afraid of tossing their problems overboard." Let the adventure begin!
                              --From Amazon.com

Ad blocker interference detected!
Wikia is a free-to-use site that makes money from advertising. We have a modified experience for viewers using ad blockers

Wikia is not accessible if you've made further modifications. Remove the custom ad blocker rule(s) and the page will load as expected.