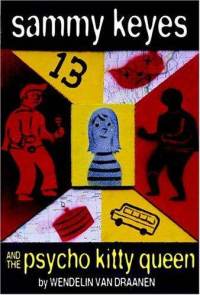 Sammy Keyes and the Psycho Kitty Queen is the ninth book in the series. It takes place in April
Once again Sammy Keyes is up to her ears in mystery. When she discovers a succession of cats killed in bizarre ways and left in dumpsters around town, she tries to figure out who would commit such a crime. Then her mother reappears and confesses that she had changed Sammy's birth certificate to get her into kindergarten so she is actually turning 13 on her birthday–again. Sammy, anxious to move beyond the unlucky number, is beside herself. But she learns to cope with the situations in her life and solves the cat mystery as well. Heather, her archenemy, reappears, yet this time Sammy has more good luck than bad in dealing with her–probably due to the lucky horseshoe given to her by Heather's brother, Casey. Throughout the book, details refer back to earlier stories but not so much so that readers new to the series will be lost. And Sammy's anger at her mother for abandoning her, mean girls at school, and her ambivalence about her attraction to Casey will strike a chord with young teens. Another hit in a solid series.
Ad blocker interference detected!
Wikia is a free-to-use site that makes money from advertising. We have a modified experience for viewers using ad blockers

Wikia is not accessible if you've made further modifications. Remove the custom ad blocker rule(s) and the page will load as expected.