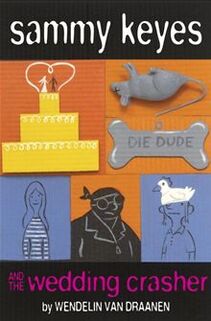 Sammy Keyes and the Wedding Crasher
is the thirteenth book in the series, taking place in September of Sammy's eighth-grade year.
For junior high detective Sammy Keyes, eighth grade begins with an accusation, an inquisition, and several assorted death threats!
The history teacher, Mr. Vince, is being threatened, which at first seems funny. He's horrible! Every student wants Mr. Vince gone. But as the threats become more serious, the question becomes—who wants him dead and gone?
With her own name near the top of the suspect list, Sammy's determined to get to the bottom of things. But she's distracted by a mother bearing bad news, an almost-boyfriend ducking her calls, and a date with a poofy lavender bridesmaid dress.
This latest Sammy Keyes adventure blends mystery, comedy, and a dusting of fairy tale magic as Sammy takes off her high-tops, puts on some party shoes, and steps into a whole lot of trouble.
Ad blocker interference detected!
Wikia is a free-to-use site that makes money from advertising. We have a modified experience for viewers using ad blockers

Wikia is not accessible if you've made further modifications. Remove the custom ad blocker rule(s) and the page will load as expected.