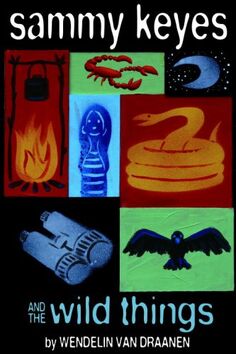 Sammy Keyes and the Wild Things
is the eleventh book in the series. It takes place in the summer, specifically June.
Far from middle school and shopping malls, Sammy Keyes explores new territory in the eleventh title in the winning series about the smart, brave, young sleuth. Sammy is surprised to find herself on a Girl Scout camping trip to save the endangered condor. She is not one of those boring, "goody-goody" conservationists. But despite herself, she gets drawn into solving the mystery: Who shot the baby bird and kidnapped its mother? Was it the developers who want the wilderness land? Was it a poacher who will get a fortune for the rare species? The close-up details of the wilderness trek are part of the story--heat, thirst, bugs, rattlesnakes, tracking devices, blisters, and more--in fact, Sammy's poison-oak itch turns out to be a brilliant clue. Series fans will welcome the mix of Sammy's detective work with her personal issues, including a budding romance with the brother of her archenemy. And many readers will be drawn by the nonpreachy struggle to save the "awesome" creature from extinction.